I´m living my second life with a smile on my face. 
I am Tomáš Masaryk and in my life I was born twice. I live my second life as a trader, athlete, and a motivational speaker. A tragic car accident and its consequences has opened a perspective on life. I would like to share this perspective with you because I believe that it could help and enrich your life too.
I often say that I have lived two lives during my lifetime.
In the first one I was a successful 22 years old professional soccer player with outlooks for a great career.
Even though in the second one I m not walking on my own legs anymore, I m enjoying each day working as an international commodity trader, Paralympic national tennis team player and in my free time I try to inspire people. I wouldn't call myself a motivational speaker – my friends, and people who heard my story called me that.
I am thankful that I am able to live my life with a smile on my face and an opportunity to talk to you.
That way, you don't have to feel alone in your situation.
Hopefully seeing me will assure you that what you trying to achieve can be done.
I am happy to inspire, ignite, and encourage people who need it.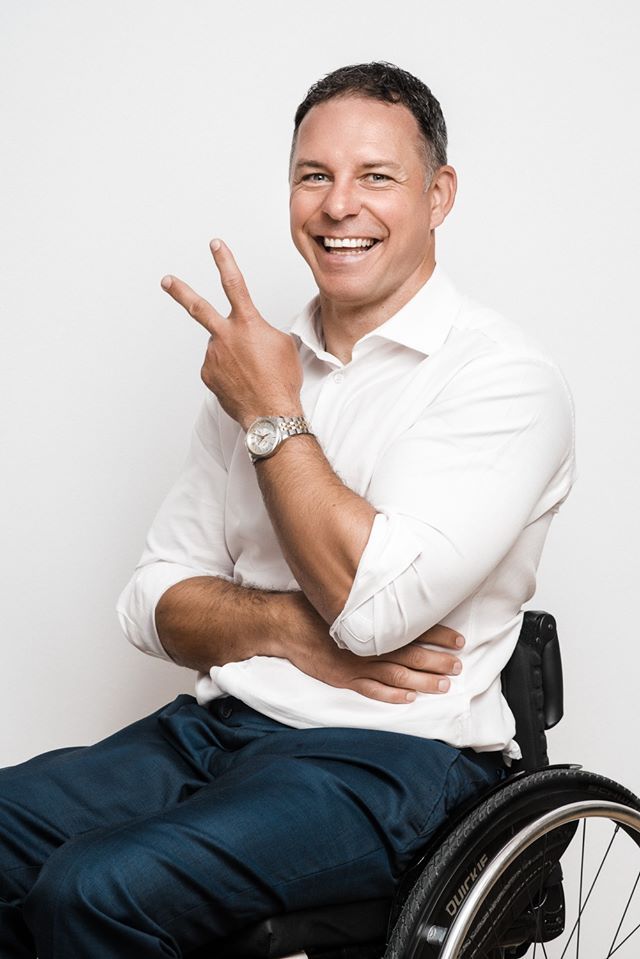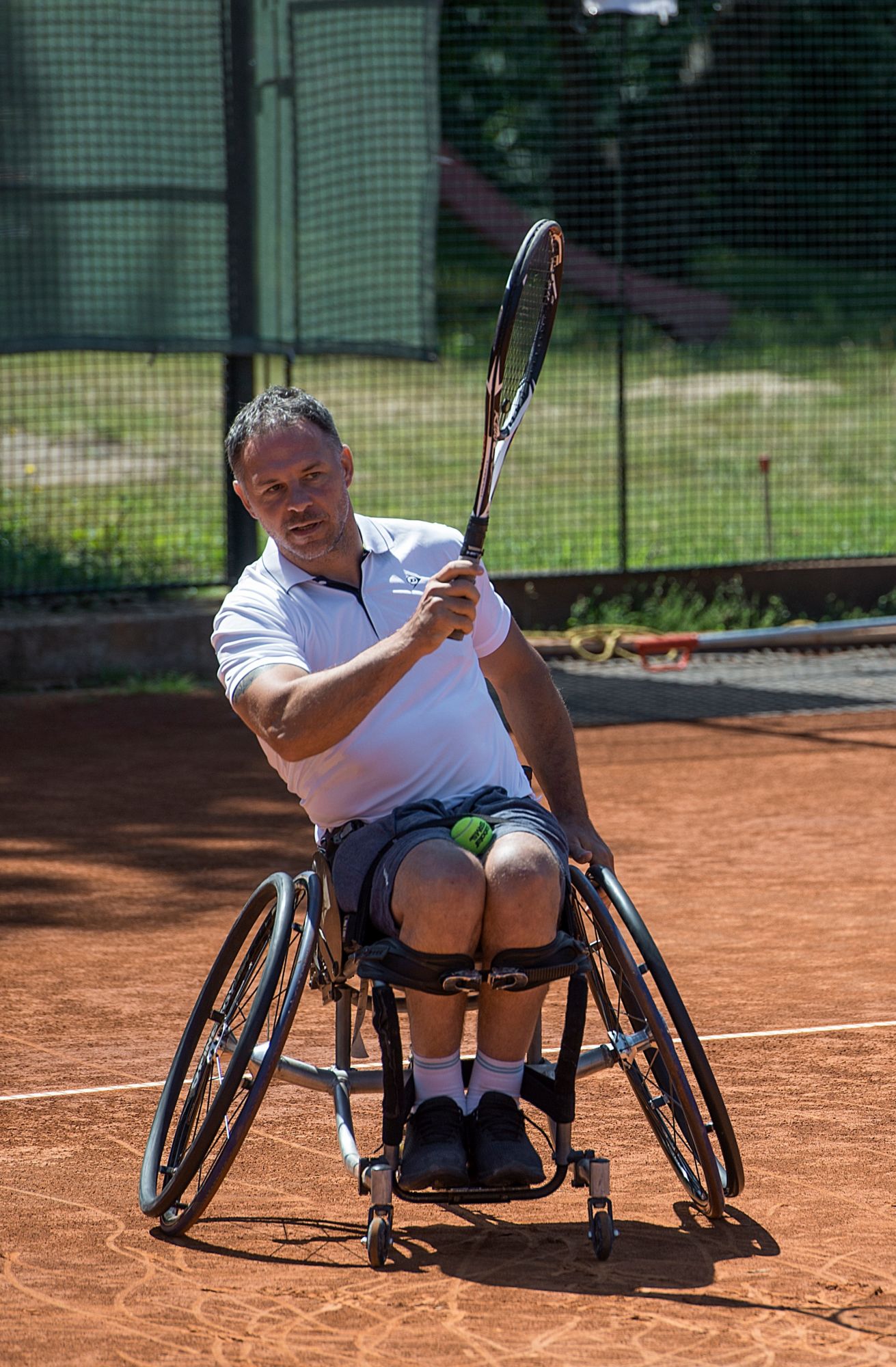 My first life ended with a car accident and I suddenly found myself with a pessimistic prognosis and desperation. Legs that used to score goals to win the matches were numb and my career faded away as I couldn't move stuck in between walls of a hospital room.
I refused to settle for not being able to get up, not feeling happiness from motion, heavy heart pumping and sweating.
I redirected the energy I used to invest in running on the field and kicking the ball towards getting better. I was stuck on the bed but in my mind I was hoping to be able to spend my days moving. I could give that hope up everyday. But I didn't.
What seemed like a naïve and unattainable goal slowly started to look more and more real.
Live with a smile on your face 
I am trying to show other people that anything is possible and that you don't have to go through what I went to understand that. One day I somehow ended up at the self-development / motivational seminar speaking about my story. Eventually I found up that talking to those people has actually helped them.
They lived by my advices and the results came soon. Now they are confident and they never give up.
Many people asked me which school I went to and from which books I gained the knowledge I spread. My honest answer was – I am just telling stories that my life has written and that I never read the principles from the motivational literature. I am living my life with both my eyes and my heart open, I try to pay attention to the things around me and learn from them.
I turned my knowledge into easy to understand words and messages and it really seems like they help people.
Which is why I decided to keep on helping. I can show an example, spark a thought, and encourage people. What I can't do is to change people's lives. That's up to them.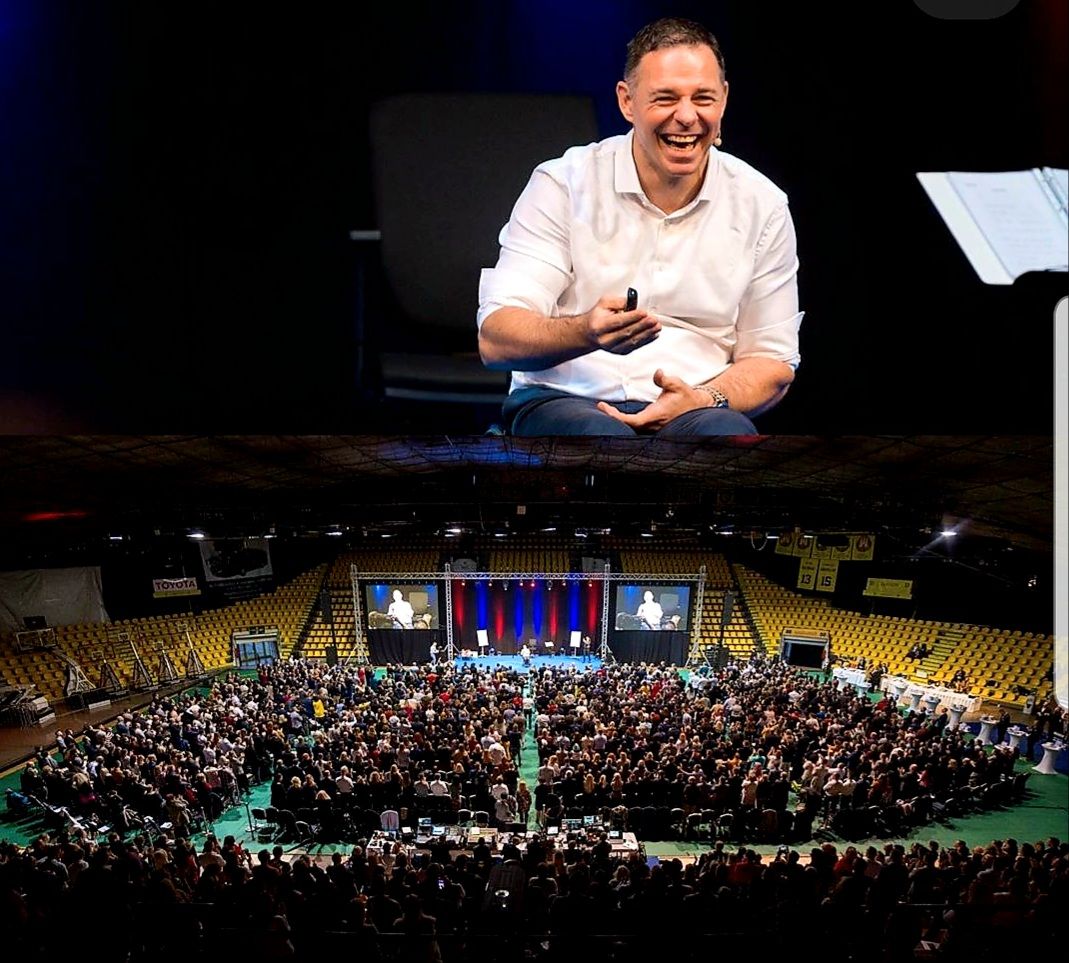 "If I give hope to at least one out of hundred people that come to listen to my story, then it all makes sense."
If you are facing a difficult situation in your life or going through the crisis and collapse of a self-motivation then I am here to offer you my story and my experience on tackling everyday problems.
Are you battling distaste in what you do, low confidence, or procrastination? If you are looking for an inspiration for yourself or for your employees maybe a story of somebody who hit the rock bottom and then came back will give you a new perspective. Contact me and we will see if I can help you too.
Do you need encouragement and motivation to get over your everyday problems? Subscribe my webcasts where I am planning to cover a number of topics including doubting ourselves, fighting self-pity and thoughts to give up. Coming soon….
I would like to thank the companies and the people whom I presented my story for the trust
I love people and they love me
Life is not necessarily about what happens to us, but more about our reactions to these events. I think that sometimes less is more which is why the first sentence is all I really had to say about Tomas Masaryk.
Tomas, if everyone on our beautiful planet had a piece of your strength, energy, and sense of humor the world would be a much better and richer place. Thank you for being who you are and for the opportunity to let me get to know you.
Freak of nature – another one of world's wonders. That's Tomas, the guy on his magic chair. Each and every room that he comes to suddenly lightens up by 100% and concentrates positive energy. If you hadn't experienced it, you wouldn't know. It was an honor, thank you for everything boss.
Always positive and smiling, that's just who he is. Your perspective on life inspires all of us to find the positive in every situation every day. In life it is not only important to have goals but also to know how to attain them. And you don't just keep this for yourself, quite the contrary. You spread the joy, and you motivate and inspire others.
Always smiling and positive athlete Tomáš Masaryk. That's how I see him. Knowing his story, knowing how much positive energy he gives everywhere he comes I am glad that I can call him my friend.
I see Tomas as an amazing human being who is fully in charge of his own life. He isn't just a dreamer he is also a doer. He is working on his own goals and is an example for many people including me. He has a great family and I am happy to call him a friend.
Tomas is a strong, inspiring person. What I studied for 25 years in books, he learned from a speed course of life. An incredible dose of inner energy, optimism, and humor is a definition of Tomas' DNA. Today, he is an inspiration for thousands of people in Slovakia and Czech Republic on the way to achieve their dreams.
I have known Tomas for many years and I have to admit that I don't know anyone that faced the fate in such way. Tomas is amazingly optimistic and his characteristic trait is wide… really wide smile. I am looking forward for him to come to the Orava region where I live and bake him the best pie he has ever had. Tomi, you are always welcome!"
NOT THE CIRCUMSTANCES BUT THE REACTION TO CIRCUMSTANCES MATTERS – the sentence from Viktor E. Frankl fits Tomas Masaryk who despite the car accident at a young age lives by this motto. As I call him "El Presidente de Zahorie" is a man who has his soul open to the joy of life. The joy to enjoy everything in our life is its purpose and Tomas lives by that every second of his life.
Dear Tomik, I have never met anyone as optimistic as you. I know funny people, people with broad perspective, intelligent ones, jolly ones, smart ones, those who have intuition, but the only one I know that has all of these attributes together is you. Good luck Tomik, I am happy to be your friend Jano.
Tomino is an embodiment and a proof of the fact that people can not only fight through the toughest situations in their lives but they can do so and come out shining brighter and stronger than ever before. Tomi is smart, funny, admirable and I value him deeply.
Spending even a few hours with this "alien" from Holíč gives you more energy than if you would drink a couple of energy drinks in a row. I love meeting Tomas and there is almost no topic that can be discussed with him. He doesn't have complexes, he doesn't get offended he the pride is not controlling him. The words "I can't" and "I don't know how" are not in his vocabulary.